*This page contains information for newly-admitted Extended Learning students*
Congratulations on your admission to BSU!  To make your transition easier, please review the following important information.
CRITICAL: StarID and BSU Email
Step one is to log in to your MyBSU account. Please go to https://www.bemidjistate.edu/mybsu/ and enter your username and password. The username is your StarID, and the password is your StarID password. If you have forgotten your StarID password, click the "Forgot password" link on that page. You may need to reference your 8-digit BSU TechID to reset the password. Your BSU TechID was emailed to you from the BSU Admissions office at the time you applied to BSU.
Once logged in to MyBSU, you'll see a tile for your BSU email account through "Office 365". Your email account should be active within 48 hours of your admission. This e-mail account should be checked regularly to receive important information from all BSU offices, including your professors and advisors. If you need assistance activating your MyBSU account, please contact the BSU IT Service Desk.
Acceptance to Your Major Program
While you have been admitted to BSU, you may have additional requirements to meet before you can be accepted to your major of choice. Social Work, DLiTE Elementary Education, and RN-BS Nursing have additional requirements and/or applications for program acceptance. See the "special statements" further down the page.
Transfer Credit Evaluation
Part of the transfer admission process includes evaluation of your transfer credits. You should be notified of a completed transfer evaluation by email within two weeks after all transcripts have been received. Reviewing your evaluation at that time will help you determine your progress in liberal education and your chosen major, based on the credits that transferred. If you have not received notice of your completed evaluation within 3 weeks after your last transcript was received, please contact BSU Extended Learning at 218-755-2068, or email cel@bemidjistate.edu.
Understanding your Transfer Evaluation (Degree Audit Report)
It is very important that you know how to interpret your transfer evaluation, which is just like a degree audit report (or "DARS" report). Use the resources on this web page as a guide.
Access Digital Library Resources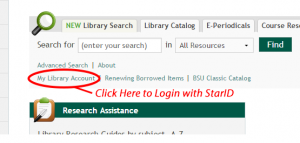 You may quickly access digital library resources through the BSU A.C. Clark Library. If you'd like to obtain a library card, which will give you access to the library resources on campus, and at Minnesota State consortium libraries, please request a BSU ID Card (see below).
Get your BSU ID Card
To request a Bemidji State ID card (which includes your StarID, Student ID, and library bar code) please submit the ID Card Request form.
Special Statement for RN-BS Nursing Applicants
As an applicant for the RN-BS Nursing program, you are also required to apply to the Nursing Department.  For information about the program, and to submit an online application, please visit the RN-BS Nursing Application Process page.
Special Statement for DLiTE Applicants
As an applicant for the DLiTE Elementary Education program, you are required to complete additional steps prior to your admission to the program.  For required steps you may still need to complete, please visit the DLiTE Application Process page.
Special Statement for Social Work (SWIM) Applicants
The next hybrid Social Work (SWIM) cohort begins in Fall, 2021. The application for this program cohort is now open through summer 2021.  For information about the program and to apply, please visit the Social Work Application page.
Registration Information
Use the Class Schedule:   Go to http://www.bemidjistate.edu/academics/schedule/.  Select "Distance" in the "Location" drop-down menu to see the online and off-site course offerings each semester. 
Advising and Course Selection:  All degree-seeking students are assigned a faculty advisor to assist them with course selection and degree completion.  Your advisor is listed on your degree audit report (see below for information on how to access this report).  Extended Learning is also able to assist non-degree seeking students with questions about course selection.
Course Registration through E-Services:  You can register for courses online by going to E-Services within your MyBSU portal. Once you have successfully logged into E-Services, click on "Courses and Registration" to access the registration menu.  From this menu, you can browse for courses or "quick add" by entering the 6 digit course ID number for the courses you wish to register for (see the Class Schedule link above for course ID numbers).
Degree Audit Report: all undergraduate students have an interactive degree audit report that details the requirements needed for the student's declared program of study. Upon receipt of a post-secondary transcript, the Records Office updates the degree audit report and will send you an updated copy.  You will also have access to your DARS reports in E-Services, under "Academic Records".  It is recommended that you familiarize yourself with this report and contact the Records Office if you have any questions pertaining to the report. Check out the DARS help files here.
For additional registration information, go to the Records & Registration website at https://www.bemidjistate.edu/mybsu/registration/registering-classes/ 
Taking Online Classes from other Minnesota State Schools
You may choose to take online courses in liberal education from other Minnesota State system schools, while enrolled at BSU. Please note that if you receive financial aid through BSU, you must notify the BSU Financial Aid office when you register for these external courses as a visiting student. You need not be admitted to these other schools, but the courses you take must be financial aid eligible, which is determined by BSU Financial Aid staff. More about Financial Aid here.
Notice about Tuition Responsibility
Please be advised that Minnesota State Colleges & Universities board policy 5.12 Tuition and Fee Due Dates, Refunds, Withdrawals and Waivers, requires that your tuition and fees must be paid in full no later than 5 days before the start of the semester, or you will be dropped from all classes. Completing any of the following allows you to stay registered for your classes:  1) You have applied for Federal Financial Aid and the university has received the FAFSA results from the U.S. Department of Education. 2) You have made a minimum down payment to tuition and fees of 15% or $300, whichever is less. 3) You have a scholarship or third party award that meets the minimum down payment amount.  4) You have an active payment plan contract with FACTS Management.  Contact the BSU Cashier's Office at 218-755-2045 for more information.