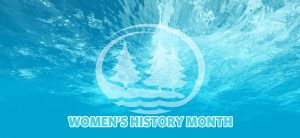 In recognition of March as Women's History Month, Bemidji State University is hosting a series of events featuring presentations, panel conversations and activism activities to celebrate women's contributions to history, culture and society.
Downloadable Event Posters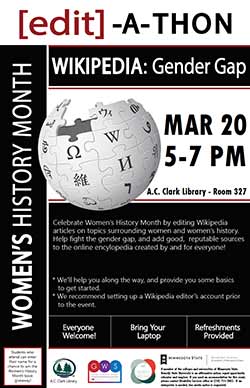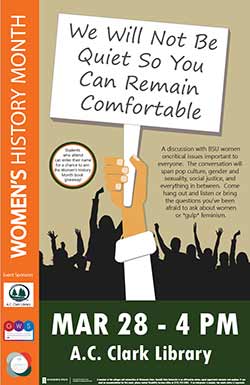 All events are free and open to the public. Sponsors include BSU's Center for Diversity, Equity & Inclusion, the gender & women studies program, BSU's Center for Professional Development, the leadership studies program, A.C. Clark Library, American Indian Resource Center, Minnesota Council of Nonprofits and the Patty Johnson Seed Grant Fund.
Gender and women studies, the Center for Diversity, Equity & Inclusion and the A.C. Clark Library are sponsoring a Women's History Month Celebration book display throughout the month of March.
Tuesday, March 20
5–7 p.m. — Students and community members will celebrate Women's History Month by editing Wikipedia articles on topics surrounding women and women's history at an event called "Wikipedia: Gender Gap." Participants will add reputable sources to the online encyclopedia created by and for everyone. Participants should provide their own laptops. Located in A.C. Clark Library 327.
Thursday, March 22
4-6 p.m. — Dr. Rucha Ambikar, assistant professor of sociology, will give a presentation on gender and other biases in student evaluations. Located in Bridgeman Hall 100.
Saturday, March 24
8:30 a.m. – 3 p.m. —Leadership and capacity training for low-income people, people of color and women in the Bemidji area. The hands-on workshop will provide training on leadership style, public speaking skills, grant writing and fundraising techniques, and awareness of nonprofit board openings. Located in the American Indian Resource Center Gathering Room.
Wednesday, March 28
4–5 p.m. — A panel conversation featuring women from across the Bemidji State campus entitled "We Will Not Be Quiet So You Can Remain Comfortable." The conversation will span pop culture, gender and sexuality, social justice and feminism. BSU students who attend the panel can enter a drawing for a free book. Located in the A.C. Clark Library.
Thursday, March 29
6–7 p.m. — Noted motivational and corporate speaker Tish Norman will present "Becoming Outstanding Women." Her presentation encourages female collegians to redefine themselves with respect, humility and refinement and a positive self-image. Located in the Beaux Arts Ballroom of the upper Hobson Memorial Union.
Learn more about Tish Norman at http://metropolismanagement.com/portfolio/tish-norman/.
Contact
Dr. Carla Norris-Raynbird, associate professor of sociology and director of women's studies gender studies and liberal education; (218) 755-2828, cnorrisraynbird@bemidjistate.edu
Dr. Brian Xiong, coordinator, Center for Diversity, Equity & Inclusion; (218) 755-3773, bxiong@bemidjistate.edu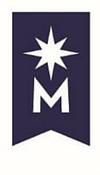 Bemidji State University, located amid the lakes and forests of northern Minnesota, occupies a wooded campus along the shore of Lake Bemidji. Enrolling more than 5,100 students, Bemidji State offers more than 80 undergraduate majors and eight graduate degrees encompassing arts, sciences and select professional programs. BSU is a member of the Minnesota State system of colleges and universities and has a faculty and staff of more than 550. The university's Shared Fundamental Values include environmental stewardship, civic engagement and international and multicultural understanding.
---
2018-B-L-079