Anishinaabe-gikendaasoowigamig Gekenjigaadeg
Since opening in 2003, the AIRC has offered academic programming for American Indian reservations and American Indian organizations throughout Minnesota. Because Bemidji State University is located between the three largest American Indian reservations in the State of Minnesota (Leech Lake is 15 miles south, Red Lake is 30 miles north and White Earth is 50 miles west of Bemidji), we have access to a large number of fluent speakers, spiritual leaders, Indian educators and cultural offerings that are all within a reasonable distance to the university. The AIRC is also home to the first Indian Studies program in Minnesota and the first collegiate Ojibwe language program in the world.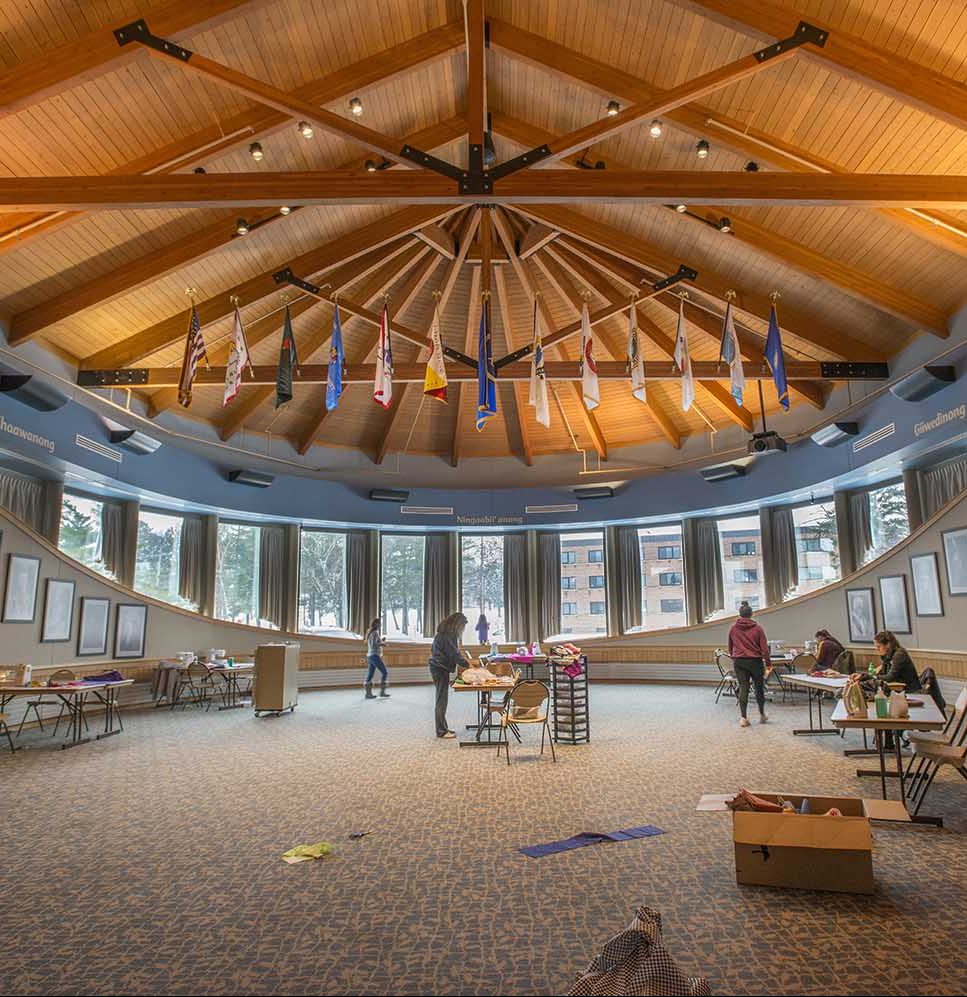 Our Mission
Our mission is to catalyze distinctive, innovative, sustainable solutions to the problems in Indian country by providing a value-driven American Indian Resource Center that nurtures and trains today's and tomorrow's leaders in tribal governance, business, education, culture and language.
Our Values
Our values are vested in a foundation of wisdom from the teachings of the first people of this land—our ancestors and elders. We strive to build bridges across racial and cultural divides, grow our historic success in working with tribal governments and teaching the Ojibwe language, culture and history to become the world's preeminent tribal resource center, a thriving hub of action and activity with unwavering focus on our mission.
We are accountable to our earth mother, our native nations and our students; and we value the empowerment of students in all of our work. Ours is a servant-leadership organization, working with integrity and respect, designed to generate new generations of native leaders with deep knowledge of tribal ways and beliefs, with roots and wings, eager and able to change the world for the better.
Our Facility
Adjacent to historic Diamond Point Park and BSU's legendary lakeside football stadium, our 10,000 square foot facility includes offices, classrooms, a student computer lab, student lounge kitchen, reception areas, conference rooms and the Great Gathering Room, which provides seating for up to 120 guests and features state-of the-art "smart" technology.
Our Students
BSU has awarded undergraduate and graduate degrees to more than 800 American Indian students. At any given time, BSU has more than 150 American Indian students who are majoring in a variety of fields including teacher education, business, environmental science, Indian studies, criminal justice, accounting and social work. BSU is home to American Indian students from throughout Minnesota and its neighboring states, as well as from New York, North Carolina, Pennsylvania, Idaho and Canada.