Abiwinan Waa-aabadakin
The AIRC has served as host to events of all types, including summits, seminars, workshops, conferences, art receptions and luncheons.
With beautiful tree lined views, dramatic vaulted ceilings and original Ojibwe art and artifacts, the AIRC will make a memorable setting for your special occasion or business event.
The AIRC features a full service kitchen for food service, and "smart rooms" technology that includes wireless internet, and LCD projectors.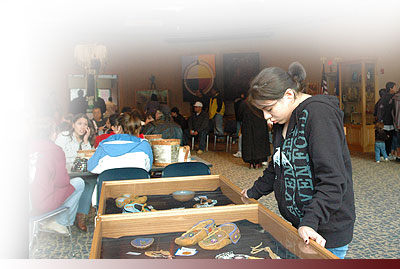 Available Rooms
Gathering Place
The Gathering Place features seating from 70-120 depending on the setup. The room is a "smart room" and is equipped with large LCD Projector, wireless internet and an excellent house sound system.
Classroom and Meeting Space
The AIRC also has classroom and meeting space available that features "smart technology." The space seats up to 20 for meetings or classroom instruction.
Reservation Information
For information on reserving room space contact Stephanie Hendricks by email or phone (218) 755-2032.