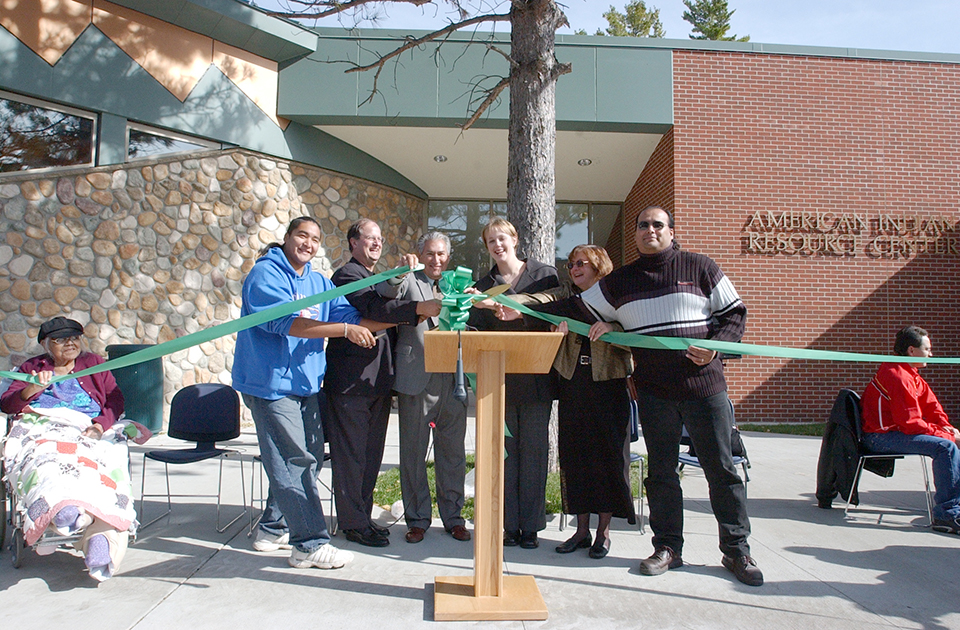 Anishinaabe-gikendaasowigamig Gaa-izhiwebak
Catching a Dream
Officially dedicated at Bemidji State University on October 4, 2003, the American Indian Resource Center is the result of 35 years of hard work by many people and organizations to bring a dream to reality.
1960-1970
At the start of 1960, Bemidji State University was just over 40 years old and had been led by two presidents. It had three different presidents and another acting president in the 1960s alone.
Nestled among all of the changes, both on campus and in the nation, within those years was a discussion of a new academic program, one that would enable BSU to better server the area's American Indian population. The discussion was lengthy lasting from 1962-1969 when the Indian Studies degree was formally added to the curriculum.
An Indian Studies Center was added a year later and located within the University's academic buildings. Almost immediately, attention focused on securing a facility to serve as a home for BSU's Native American offerings, cultural activities and outreach efforts.
2003
After many years of planning and development, the AIRC opened in 2003, funded largely by the Minnesota Legislature with additional resources provided by foundations, tribal governments and many individuals and groups
"If you do not dream, if you do not have a vision, nothing will ever happen," said Lee Cook, the director of the AIRC upon its opening. "Those early people were dreamers and visionaries who set us on a path leading to where we are now. And what has been constructed today is a bigger building with a bigger mission than they ever envisioned."
"The AIRC is a compliment to the community, campus, past BSU presidents and alumni," said Lee Cook. "They had been dreaming for a long time, and it is now here. It is real and operating. It will be creating a presence for Indian people for many years to come."
The Present and the Future
The AIRC fulfills a long-recognized need on campus, that a space be created where American Indian students could gather for learning, support and cultural interaction. The ultimate goal would be to enhance the recruitment, retention and graduation of American Indian students.
But the AIRC does more than serve American Indian Students. Its reach extends beyond campus, to the Native American population within the state and to Indian people across the country.
---