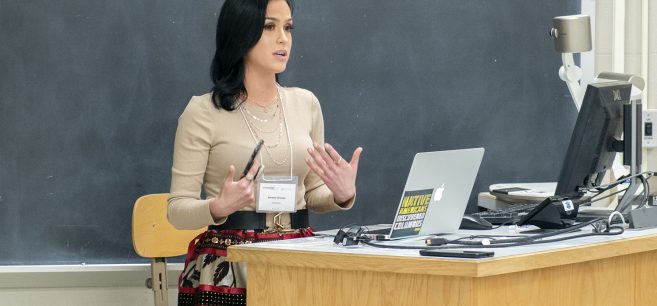 Born and raised on Red Lake Reservation, Serena Graves has found her life's calling in studying and learning to speak the Ojibwe language
Serena Graves, a sophomore indigenous studies major at Bemidji State University, grew up on the Red Lake Reservation in northern Minnesota without ever learning how to speak Ojibwe. Today she spends her time studying the language of her ancestors and working at the Red Lake Immersion School where she speaks Ojibwe on a daily basis.
After Graves graduated from high school, she moved to the Twin Cities where she worked odd jobs to determine her next move. While there, Graves' young nephew was diagnosed with terminal cancer and lost his battle in November 2015. In a traditional Native American funeral for her nephew, Dr. Anton Treuer, BSU professor of languages and ethnic and indigenous studies, served as the spiritual advisor and conducted the ceremony in Ojibwe.
"Not being able to understand the language used at my own nephew's funeral hit me hard," Graves said. "This was a big wake-up call for me. I realized that I was contributing to tribal language loss and that I needed to learn about the language to learn more about myself and my culture."
Seeking her purpose in life and within the Red Lake Reservation community, Graves turned to higher education and enrolled at the University of Minnesota – Twin Cities where she was encouraged to study the Ojibwe language
"My professor explained the Ojibwe language in a way that I could understand from the root – up," Graves said. "It only took one class to decide this is what I wanted to do with my life."
Graves began working at an Ojibwe language school in Minneapolis and transferred to Minneapolis Community and Technical College. Things were going smoothly, but Graves said she felt a pull for something more.
"I started to realize that I should be doing all these great things for my own hometown and serving the Red Lake Reservation," Graves said.
So that is exactly what she did.
Graves enrolled in classes at Bemidji State University and returned to live on and serve the Red Lake Reservation. She currently works as an aid at the Red Lake Immersion School where Ojibwe is the only language spoken to the students. She said the school has been a safe haven for her and has helped her dive deeper into the language and culture of her ancestors.
"For me, learning my language gave me my identity," Graves said. "The worldview that you have when you know a tribal language, especially your own, helps you view the world the way that your ancestors did. It brought me so much happiness. When I see children learning these same language practices, it is so powerful."
At Bemidji State, Graves is sharing her knowledge and love of the Ojibwe language by conducting the American Indian Resource Center's Ojibwe Language Table. Every Wednesday, she welcomes students and community members to learn and practice the language. She also is a peer advisor for the BSU Student Success Center where she tutors students in Ojibwe and helps them navigate academic programs.
Expressing her gratitude for others who encouraged her to find her path in life, Graves says she has never felt happier.
"My life is incredibly chaotic, but I am so happy because I know what I do impacts a native language revitalization effort. It's brought a whole new sense of positivity to my life," she said.
For the future, Graves is continuing to set her sights high. She hopes to go on to graduate school and eventually receive a Ph.D. in linguistics to write Ojibwe language curriculum.
"The Ojibwe language has helped me work through the sadness and grief in life and given me a whole new perspective," she said. "I want to help others do the same."