A Place for Study
Gikinoo'amaagewinan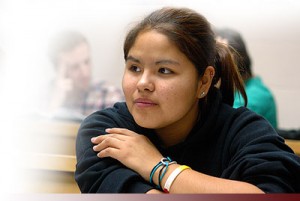 Academic Programs
The AIRC is home to BSU's Indian Studies and Ojibwe Language Programs, which offer major and minor programs on the study of American Indian culture, history, politics and the Ojibwe language.
Indian Studies Program/Major
The Indian Studies program is open to all students. It offers Ojibwe and other Indian students an academic area of study relevant to the diversity of their cultural heritage. It offers Indian and other students a better understanding and appreciation of the diversity of Indian history, language, and culture.
The Indian Studies major is designed to provide a cultural, political, and historical background for a companion major in a skills area (applied study major).
Contact Tessa Reed for more information about the program.
Ojibwe Language Minor
The Department of Languages and Ethnic Studies offers a Minor in Ojibwe and Certificate of Instruction in Ojibwe. Upon completion of this minor, students may be eligible to teach Ojibwe at the elementary and/or secondary school level.
The program offers:
Survey course in Ojibwe culture and history
Six semesters of language courses from the elementary to advanced levels
Ojibwe Oral Literature
Grammar and Linguistics
Instruction of Ojibwe Language
Contact Dr. Anton Treuer for more information about the minor.