Residence hall amenities and services at BSU include:
Academic Resource Center
Located in Oak and Tamarack Halls, the Academic Resource Centers (ARC) contain literature related to academic skills, unique programs and resources. The ARC is staffed by student peers. These knowledgeable students are able to help in their specialty as well as generalized academics.
Basketball Courts
There are basketball courts outside Oak Hall and Tamarack Hall.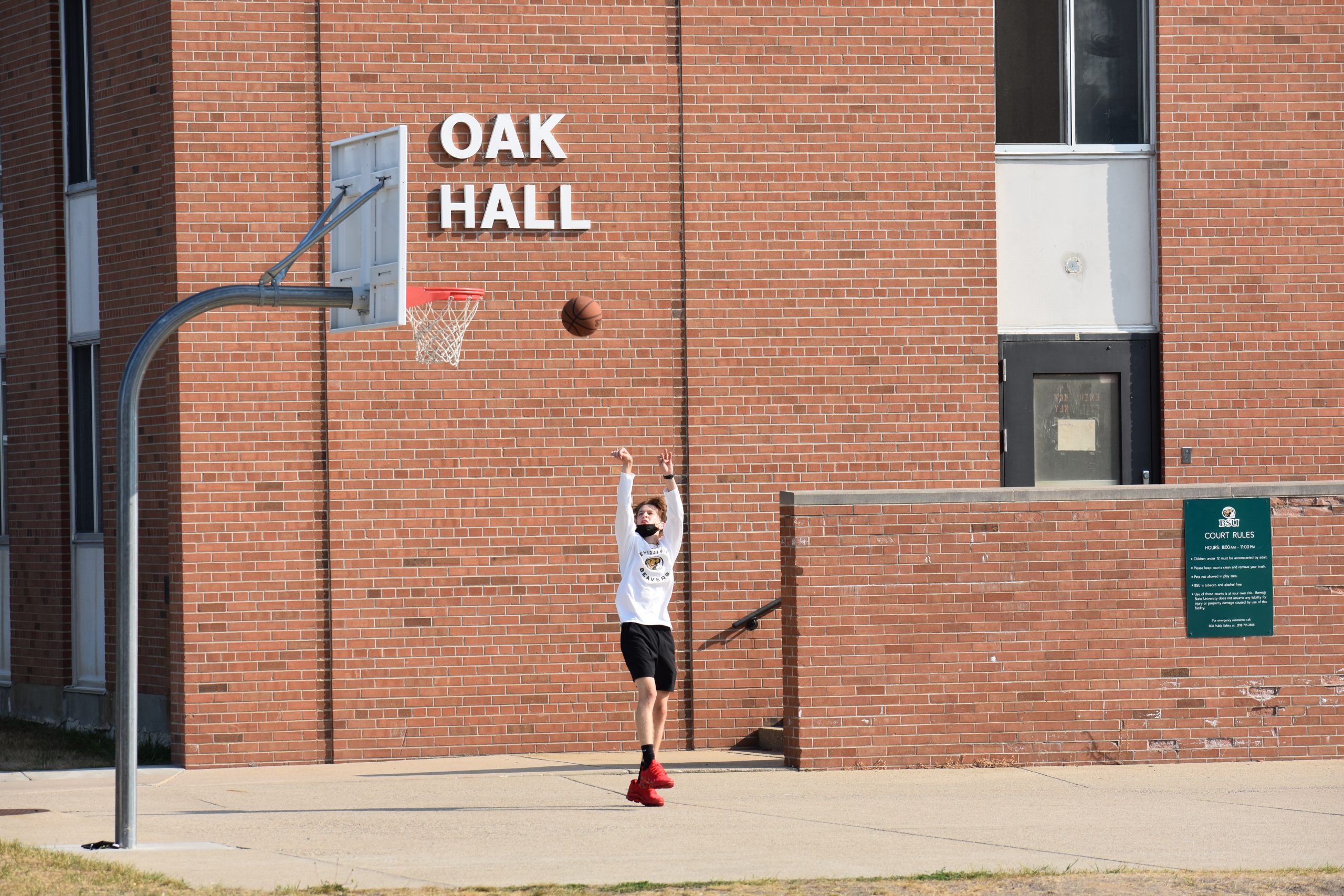 Bathrooms
Bathrooms are found on each floor with showers, sinks and toilets. Some bathrooms are designated men's or women's, while others are gender inclusive.
Bicycle Storage
Oak and Tamarack Halls have outdoor bicycle racks with fix-it stations. Some halls provide bicycle storage for the winter months, coordinated by the hall council. The storage of bicycles is allowed in student rooms.
Cable TV
Basic cable package is included with room contract and problems with any of the equipment should be reported to the residence hall front desk or a Resident Assistant (RA). See the current channel lineup.
Computer Stations
Computers for student use are located in the Oak ARC and Walnut Hall. These computers are connected to the campus computer network.
Elevators
Each residence hall has elevators for use throughout the academic year.
Fireplaces
Birch, Linden, Oak and Tamarack have electric fireplaces. Linden Hall also has an outdoor fire pit that is available for use, and approval for use must be obtained through the reservation process at the Linden Hall Desk.
Game Rooms
Game rooms are located in the basements of Tamarack and Oak residence halls. There are also game tables in Linden, Pine and Birch Halls.
The Tamarack game room is equipped with the following:
Foosball table
2 pool tables
The Oak game room is equipped with the following:
2 foosball tables
2 pool tables
2 ping pong tables
1 air hockey table
Residents may check out the game equipment using their student ID.
Hall Front Desks
Each residence hall has a Hall Front Desk that will provide mail and general information. Depending on the purchases of the hall council, the front desk may also provide sports equipment, tools, games and cooking equipment.
Kitchen Facilities
Kitchens are available in each hall and some residence hall front desks have cooking equipment you can check out for use. Please return items clean and undamaged.
Laundry Rooms
Each hall has a laundry room equipped washers and dryers. Housing & Residential Life is not responsible for items lost or stolen from laundry rooms. You can also monitor laundry machine availability, report a problem with a machine or submit a refund request.
Lost and Found
Lost and found items are kept at the residence hall front desks, the information desk of the Hobson Memorial Union, the Gillett Wellness Center and BSU Department of Public Safety.
Mail
Mail should be addressed to residents using the following information:
Full Legal Name
Hall Name
Street Address #Room Number Wing
Bemidji MN 56601-xxxx
Maintenance
Maintenance concerns should be reported to the RA or the hall desk. Maintenance personnel have the right to enter residence hall rooms to perform maintenance tasks.
Meeting Rooms/Public Spaces
Meeting rooms are available in the residence halls for use by residents. Reservation requests may be initiated at the residence hall front desk. Only recognized residence hall groups can reserve public space in the residence halls.
Music Practice Rooms
Some residence halls have rooms with pianos. Keys for access may be checked out from the front desk.
Painting Your Room
Individuals wishing to have their rooms painted should submit a work order to their RA, front desk or in the Housing & Residential Life office. University personnel will do an assessment to determine if paint is needed; if deemed necessary, the BSU painters will do the painting.
Recycling
Bemidji State University and Housing & Residential Life vigorously support the concept of reduce-reuse-recycle. This helps reduce the amount of money spent each year on garbage disposal (and hence, stabilizes room costs) and also protects our environment. Each residence hall kitchen and many public areas contain recycling receptacles.
Rental Programs (Lofts and Bicycles)
Residents may rent a bed loft by indicating that preference on the housing application. Cost is $50 per semester. Refunds will only be given through the first 2 weeks of each semester once the loft is returned. Bucky Bikes can be rented through the Sustainability Office.
Room Furnishings
Most rooms are furnished with bed, dresser, desk and bookshelves.
Sand Volleyball Courts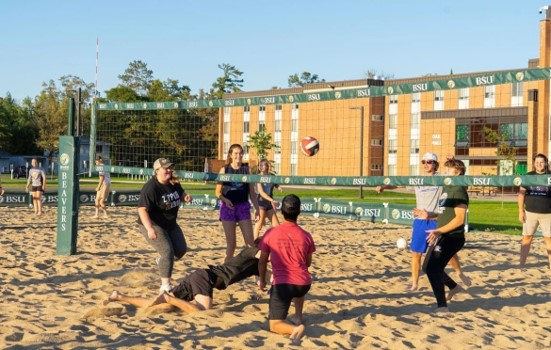 Outside of Oak A-Wing facing the parking lot are 2 Olympic-style sand volleyball courts. There is also a volleyball court by Pine Hall.
Staff Assistance
To ensure that a resource person is available nightly, a Resident Assistant will be on duty from 9:00 pm to 7:00 am. If assistance is needed when your floor RA is not available, contact the RA on duty. Each hall will post a duty schedule with contact information.
Storage Lockers
A limited number of storage lockers are available in the basement of Pine Hall for current residents. Students must provide their own locks. Approximate size: 21 in. wide, 33 in. deep, 7.5 ft. high. Sign up and access is available through Housing & Residential Life in Walnut Hall during office hours. Summer semester storage is available to residents that have either an active summer housing contract or a fall assignment.
Vending Machines
Vending machines are located in each residence hall and are serviced and owned by a private company. Information regarding refunds is posted on each vending machine.
Weapon Storage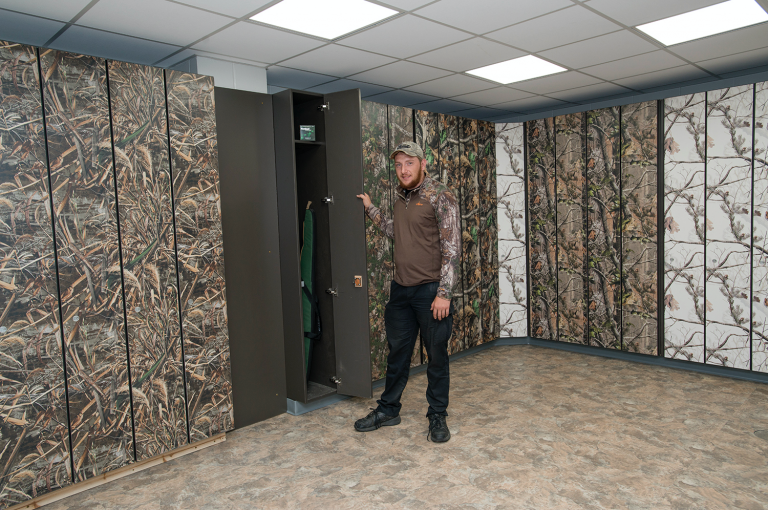 Weapons storage lockers are located in a secure room in Walnut Hall. Lockers may be reserved at the Housing & Residential Life office in Walnut Hall at no charge. Residents must sign an agreement and will receive a key for the locker. Weapons may be retrieved or returned at any time by first stopping by the Public Safety office to receive a Weapon Storage room access card. This facility has surveillance cameras and is closely monitored by Public Safety. Weapons storage lockers are available only to residence hall students.
Wild Game Cleaning Room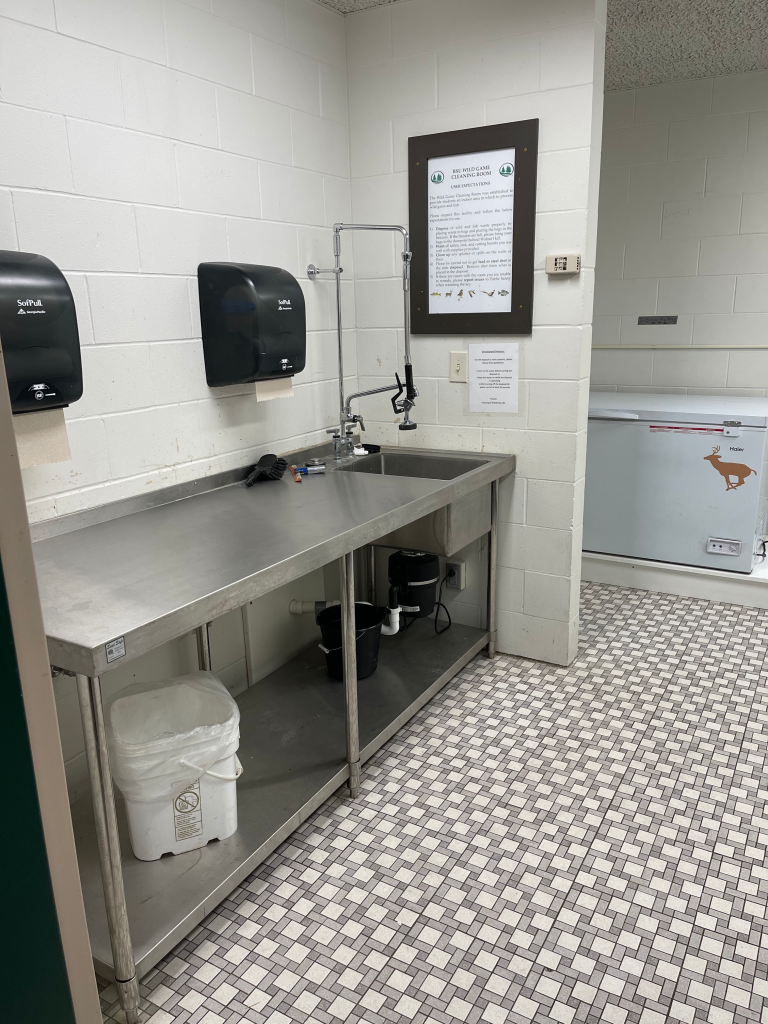 A room for the cleaning of wild fish and game is located in Walnut Hall. The room has stainless cleaning tables, sink/sprayer and more. The Wild Game Cleaning Room is available for use only by residence hall students.