Meet new friends. Make new memories. Share similar experiences with students who, like you, have just arrived at Bemidji State.
All new first-year students participate in the First-Year Residential Experience program (FYRE), which provides a unique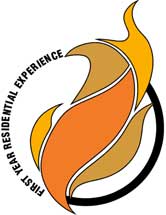 academic and social experience specifically designed for first-year students. Students have the opportunity to live with a roommate in a double room along with other first-year students in Oak or Tamarack Hall. Together you explore BSU and help each other adapt to college life.
You'll have the chance to learn more about the FYRE program and opportunities when you arrive on campus for the New Student Orientation.
FYRE Facts
771 students
17 residence hall floors
1 PAA per floor
FYRE Benefits
An individualized orientation program designed exclusively for FYRE students
FYRE sections of the First-Year Experience (FYE) Seminar classes
Caring Resident Assistants (RAs) on each floor
One Peer Academic Assistants (PAA) living on each floor
Students can search for a roommate right in the housing application — the roommate experience is a key part of FYRE
Academic Resource Centers (ARC) in Oak and Tamarack Hall
FYRE social activities
Activities and Traditions
There is ALWAYS something to do for participants of the FYRE program. Activities include:
A day at the Low Ropes Course
Bingo
Ice Cream Socials
Mocktails (Alcohol-free bar and dance)
Haunted Halloween Floors
Paint Nights
Sand Volleyball
Family Weekend
End of year FYRE banquet
Choose Your Experience
Floor communities for Fall 2023 will be located here:
Area of Interest
Hall/Floor
All-Male Living
Oak 1A
All-Female Living
Oak 4A
Co-ed Living

Oak 2A-3A

Oak 1B-4B

Oak 1C-4C

Tamarack floors 2-11

Honors Learning Community
Oak 2A
Indoor Adventures
Tamarack 6
Outdoors Learning Community
Tamarack 4 & 5
Rainbow Residence Community
Tamarack 11