If you live in the Residence Halls, you'll hear the word "community" a lot.
Many floor members form close relationships, often with students very different from themselves and get involved in many activities together. When things are going well, the floor becomes like a family and the hall like a neighborhood. The sense of community in the Residence Halls is only as strong as its members make it. Each member must contribute positively toward the sense of hall unity.
FYRE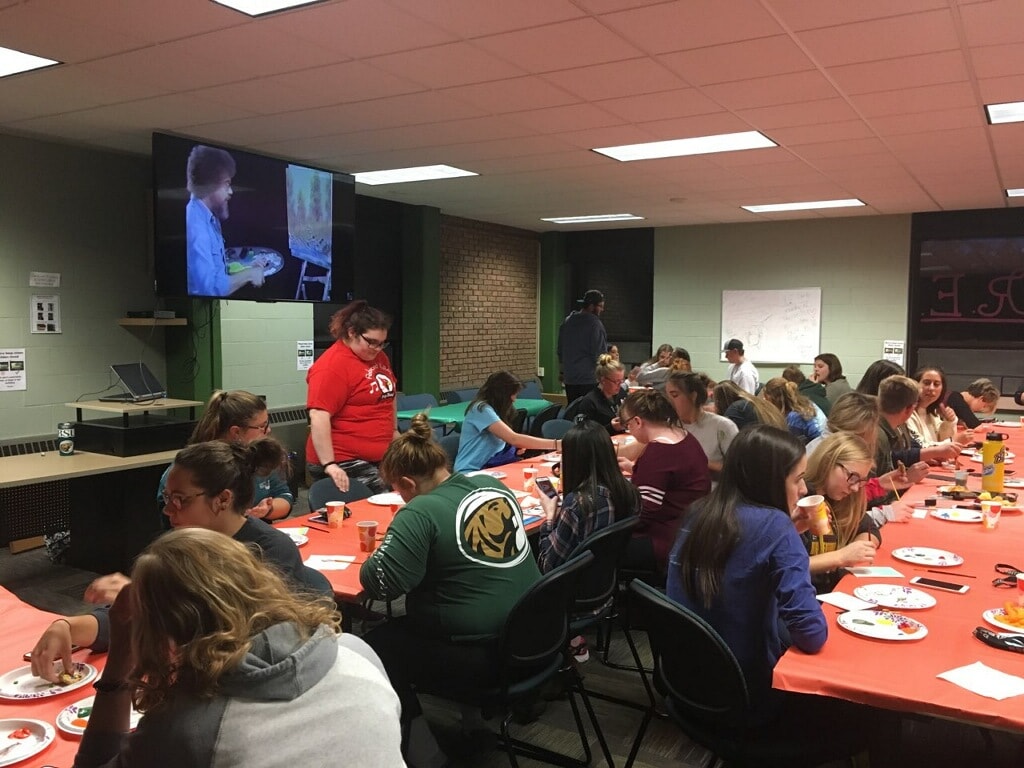 FYRE (First Year Residential Experience) helps new freshmen students easily make new friends, share similar experiences and successfully transition to college life. Students live in double rooms on a floor in either Oak or Tamarack Hall.
CAN
CAN (Community, Academics and Networking) is a continuation of FYRE but for upper division students. Students develop skills to be successful in their higher-level courses and life after college. Residents living in Birch, Linden, Pine or upper division student floors in Oak are automatically part of CAN.
Residence Hall Floor Communities
Criminal Justice Learning Community
Join our thriving criminal justice community on campus, where passionate students and experienced faculty come together to delve deep into the complexities of the criminal justice system. This dynamic community provides a supportive environment for students to engage in thought-provoking discussions, hands-on activities, and real-world applications. As part of the learning community, students will have the opportunity to form relationships with other criminal justice students and engage with professionals in the field. For more information, please contact the Criminal Justice Learning Community Coordinator, Dr. Amber Laffin at Amber.Laffin@bemidjistate.edu or 218-755-3767.
Honors Learning Community — Oak 2A
The Honors Program and Housing & Residential Life are partners in the Honors Residential Experience. The Honors community will be located in Oak Hall on 2A. It offers students the opportunity to create a special learning community where fellow residents share educational values and enrichment. First years living in this Learning Community will be invited to participate in FYRE activities and should enroll in HOPR 1190 during your first semester. For more information, contact the Honors Program at (218) 755-3984 or honors@bemidjistate.edu.
Indoor Adventures Community — Tamarack 6
Bemidji State University is not just full of Outdoors people. If being inside, playing video games and enjoying smaller group interactions is more up your alley, look into the Indoor Adventures floor. This community offers a greater sense of team building through the use of video games, board games and activities that center around the worlds outside of reality. If picking up a game of Dungeons and Dragons, Fortnite or Munchkins is what excites you the most, look no further than 6th floor Tamarack Hall!
Outdoors Community — Tamarack 4 & 5
If the beauty and the opportunities of the Northwoods is what drew you to BSU, this is the floor for you! Located in Tamarack (4th & 5th floors), the Outdoors themed communities offers activities and events such as canoeing, camping, hunting, fishing, hiking and other various outdoor activities. Come make life-long friends with people that have the same passion for the outdoors and nature as you!
Rainbow Residence Community — Tamarack 11
Rainbow Residence is an inclusive community for 2SLGBTQIA+ and allies. This floor is for folx that are action takers and want to advocate for justice, diversity, equity and inclusion. There will be opportunities like recommended classes, lectures and events to participate in as a step into action!
STEM Learning Community
The STEM learning community is an opportunity for science, technology, engineering, and mathematics (STEM) majors or those who are a STEM scholar recipient to live and learn together.