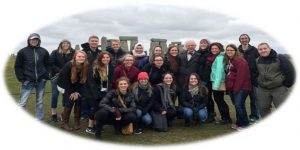 Experience first-hand the Danish concept of hygge, an intangible sense of warmth and contentment.
Visit Stonehenge as part of a fieldtrip.
An education abroad isn't just a memorable part of your college experience. It is a chance to understand the world, your studies and yourself in a broader cultural context. Whether you travel to Belize or head overseas to Switzerland, you'll return to Bemidji State with a whole new perspective.
To help you consider your options and prepare for international travel, we've put together a few helpful resources:
BSU Around the World
University Programs
The University-run EuroSpring program offers students the chance to spend five weeks in the spring studying in Oxford, England.
Departmental Programs
Several departments offer study programs of varying lengths. Please see the department in which you are interested, for current information of their offerings.
Exchange Programs
We've partnered with schools across Europe and Asia where you can study as a visiting student.
Independent Study
You may also participate in an independent study abroad program, either through a third party organization like the Council on International Education Exchange (CIEE) or another U.S. institution, or by enrolling directly at an accredited foreign institution.
Student Safety
Safety is vital for all of our students, especially those going abroad. All students going abroad are required to have insurance that covers them while away. Additionally, we are required to report all student hospitalizations and deaths during education abroad experiences. More information can be found here:
Minnesota Study Abroad Program Law
(Minnesota Statute chapter 312, article 1, section 5)
The "Minnesota Study Abroad Law" (August 2014) requires higher education institutions in Minnesota to report student hospitalizations and deaths abroad as well as ensure its study abroad programs comply with health and safety standards set by the Forum on Education Abroad. The Minnesota Office of Higher Education will then post the reported information in aggregate on its website annually, which institutions will provide a link to on its program information.