Summer Visiting Student Programs are returning 2023! Stay tuned for updated details.
Overview
The Summer English Language and Cultural Immersion Program at Bemidji State University is a short term program with an equal focus on intensive English language and cultural immersion. The program is designed for college students wishing to improve their English language proficiency and to gain a deeper understanding of U.S. culture at the same time experiencing life as the ambassadors from their home institution on BSU's campus.
During the program, participants attend 10 hours of classes on weekdays. The mornings are dedicated to focused language instruction based on the students' English levels and academic discipline, while the afternoons provide opportunities for educational, cultural, natural and historical outings around the state of Minnesota.
概述
夏季英语语言及文化浸没体验营是伯米吉州大学针对国内合作院校派遣的学生使者开设的一个夏令营。伯米吉州立大学坐落在风景宜人,夏季凉爽的明尼苏达北部。这个短期夏令营是一个着重于对英语语言,美国文化,和大自然的浸没式体验。此项目在设计上让学生使者浸没在美国校园,通过地道的大学校园学习和生活, 来增进英语的沟通理解水平,加深对美国中西部文化的理解,更亲近于大自然生态环境。
项目期间,参与同学每周一到周五早上参与共10小时的英语语言课程学习。针对学生具体的英语水平和专业,早晨在课堂里,学生们一边学习美国文化习俗历史,一边提高英语口语和写作。下午,在课堂外学生们有机会在明尼苏达州内参与和教育,文化,自然,历史相关的实践活动。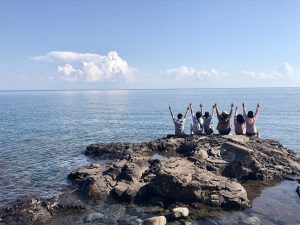 Team Activities
Early in the program, students are divided into smaller groups, or teams, each one led by a BSU student mentor. They remain in these teams throughout the three weeks while doing activities both on and off campus. The BSU student mentor serves as a team captain to the Chinese students in their group. The mentors organize friendly competitions for the teams who compete for points that accumulate until the end of the program when the winning team is announced. One such activity is a scavenger hunt on the first day that helps the students familiarize themselves with the campus and the city of Bemidji.
The BSU student mentors are all current enrolled students. As such, they know the campus inside and out, as well as the surrounding area. This enables them to serve as effective and informative guides. They also serve as conversation partners and cultural mentors to the participants.
组队活动
同学们在夏令营一开始就会被分成几个小队,每个队由一个BSU的学生带队。他们在三周内全程参与带领校内外的活动。这些BSU学生作为学生使者队的队长将组织小组之间友谊赛,全程积分,在项目结束时公布获胜队伍。其中一个活动可以是第一天户外寻宝,通过探寻"宝藏"熟悉校园和伯米吉周边的环境。
这些队长们都是伯米吉州大学大学的在读优秀学生。他们对校园内外了如指掌,所以可以成为来访学生的地导,为他们提供信息和帮助。通过和他们的沟通互动,同学们可以了解到美国年轻人的想法,流行文化和语言习惯。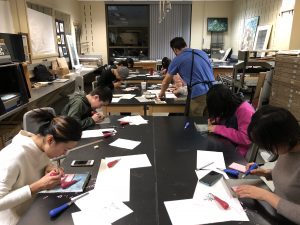 Off-Campus Trips
After a morning of classes, students head off on field trips to explore Minnesota and its beautiful environment. Bemidji and Northern Minnesota is such a paradise for outdoor nature lovers, so we make it a point to limit the amount of class time for this program. Students can get outside, be active, connect with nature, immerse themselves in the culture and fine tune their newly acquired English skills and cultural knowledge from the classroom. No two days are the same. The activities are diverse and may include visits to a family-run organic farm, art museums, musical and theatrical performances, exploration of historical landmarks, hiking trails at the state parks, and other recreational and cultural sites, including the famous Mississippi headwaters, Lake Itasca, St. Paul cathedral, Split-Rock light house and a sunset cruise on Lake Superior. In the evenings, students participate in social activities with Bemidji State University students and faculty, which include a welcome bonfire, outdoor Barbeque, rock-climbing, yoga in the park, a lawn game night, outdoor concerts, and a formal farewell dinner.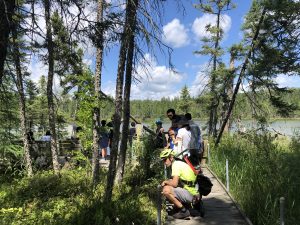 校外实践活动
一早的英语课完毕,午餐后同学们就要出发去体验明尼苏达州美丽的自然环境以及丰富的历史文化。伯米吉以及周边城市乡村是户外运动爱好者的天堂。我们特意只限上午上课就是为了给同学们留时间到室外去,保持活跃,亲近大自然,感受文化,并且可以亲身经历上午课堂里刚学到的内容。
校外活动丰富多样,没有任何两天是一样的。活动内容包括参观艺术博物馆,探索历史名迹,参与文化盛典,户外远足和其他户外水上活动。例如游览密西西比河源头Itasca公园,逛MOA美国最大购物中心,观看舞剧表演,参观圣保罗大教堂和Split Rock灯塔等。傍晚,我们还为同学们准备了很多和伯米吉州大学师生互动的社交活动,例如篝火野餐、户外烧烤、草地游戏、攀岩、瑜伽、露天音乐会、告别宴等等很多令人难忘的经历。
Program Elements and Costs
NorthStar Visiting Scholars Academy will accommodate the visiting student ambassadors for a program fee (please contact Jo Li for more details) and provide the following:
Transportation to and from Bemidji Regional Airport (BJI)
BSU support staff and student team leaders
Access to BSU facilities and resources (e.g. BSU library, WiFi, Wellness and Recreation Center)
10 hours per week of English language lessons (total of 30 hours), and related course materials
3 meals a day for the duration of the program to and from MSP
Housing (single or double occupancy room shared another student of the same sex)
Transportation and admissions for field trips to places of interest within the state of Minnesota
Equipment rental for water activities
Off-campus activities (e.g. Mall of America, Musical performance, Itasca Headwaters of Mississippi, St. Paul Cathedral, Split Rock Historic Light House)
On campus activities (e.g. Bonfire picnic, outdoor BBQ, rock climbing, yoga, farewell reception)
The Following costs are not included in the program fee:
Round-trip travel costs to MSP
Visa fees where applicable
Personal expenses, shopping and souvenir expenses
Health and other accidental insurance
Expenses travelling to other parts of the U.S.
项目包含的内容如下:
伯米吉机场(BJI

)的接送

BSU的老师和

学生领队

周一到周五上午参与每周

10

小时的英语语言课程学习(共30小时),

 

包括教材

BSU的设施及资源的使用(例如BSU图书馆,无线网,体育馆和健身中心)

项目期间的一日三餐

20晚的住宿费(二人间标准,和同性别学生合住)

去附近城市景点的交通,食宿和门票

水上运动器材的租用费用
校外活动(例如游览密西西比河源头Itasca

公园,逛

MOA

美国最大购物中心,观看舞剧表演,参观圣保罗大教堂和

Split Rock

灯塔等)

校内活动(例如

篝火野餐,户外烧烤,草地游戏,攀岩,瑜伽,告别宴等)
项目费不包括以下内容:
往返国际机票
签证费用
个人开销,购物和纪念品的开支
医疗及其他意外保险
去美国其他地方旅游的费用
具体项目费用请联系 Jo Li, jo.li@bemidjistate.edu