Due to COVID-19, EuroSpring is currently on hold. We hope to return in the near future!
Follow Bucky's EuroSpring adventure on Instagram!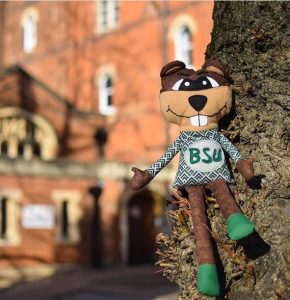 Bucky Abroad: First Week in England
Looking Back at the First Week of EuroSpring
Bucky Abroad: Week 2
Bucky and the rest of Bemidji State University's EuroSpring group visit Ashmolean Museum, Avebury, Stonehenge and Salisbury Cathedral.
Tentative 2020 dates: March 17 – April 19.
Study abroad in Oxford while paying BSU tuition and fees and earning BSU credit!
From the term before your departure until your return, we provide plenty of support and guidance. During the fall, you'll attend pre-trip workshops and orientation sessions. Housing is included in the cost of the program. Learn more about price and eligibility.
Academic Program
All EuroSpring students take a main lecture course. You will also enroll in two additional courses and participate in various field trips and group activities.
All participants register for the following courses:
Course
Credits
Goal Area

BSU COURSE: INTL 1130 – Ed Abroad Basics

(If you did not take in Fall 2017)

3
NA
BSU COURSE: INTL 2100 – Instruct Intl Tour
1-3
8
HIST 2953 – The Age of Renaissance, 1450-1600
3
5
Participants must register for TWO of the classes below for credit, though all classes are open for audit.
| | | |
| --- | --- | --- |
| Course | Credits | Goal Area |
| ENGL 2954 – Comedy and Tragedy in Shakespeare | 1 | 6 |
| POL 2953- POL 2953- Politics, Power, and Law | 1 | 5 |
| SCI 2951 Science and Discovery | 1 | 3 |
| ARTH 2953 – Art and Architecture | 1 | 5 |
PLEASE NOTE: Many students also take an online course in Spring in order to bring them up to 12 credits.
Field Trips
Avebury, Stonehenge, and Salisbury.
City of Bath and the Roman Museum, via Burford and the Cotswolds.
Portsmouth Dockyard Museum.
Anne Hathaway's cottage and walking tour of Stratford-upon-Avon, theatre visit to see a performance in the evening.
The students will also be taken on a walking tour of Oxford, usually shortly after arrival, to help them find their way around the city, and to see its main buildings.
For more information, please contact
Danielle Smith, Interim Director
(218) 755-3829
Deputy Hall 111
international@bemidjistate.edu
Minnesota State is an organization which contracts with Wycliffe Hall for the provision of an Education Abroad experience, but which has no formal connection with the University of Oxford.