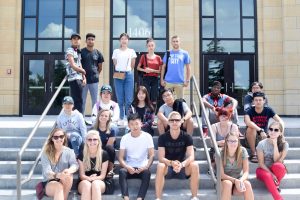 International Student Orientation is a week full of activities, new friendships, and preparations to start your life at Bemidji State. As such, we require all new international students to attend the full orientation session in order to attend classes.
The International Student Orientation includes the following services:
Math assessment and class placement recommendations
Academic American English assessment
Review of immigration regulations
Visit with local banking representatives
Health and wellness advising
Introduction to American culture
Registration for classes
Student activities and on-campus involvement
Much more!
Fall 2020 International Student Orientation
Check-in for Fall 2020 orientation takes place on Monday, August 17 with mandatory attendance at activities throughout the week.
Plan to arrive on or just prior to Sunday, August 16.
Housing Accommodations
We recommend that all new international students live on campus their first year.  This is a requirement for all international students under age 21.  For more information on student housing on campus visit the Department of Residential Life.
To Apply for Housing
As soon as you receive your Welcome packet, you can sign up for a residence hall room. Once you know your arrival date in Bemidji, you may wish to contact the Department of Residential Life to request early check-in. If available, Residential Life will notify you of the cost and dates available.
Arrival
It is essential that you arrive in Bemidji on or just before the recommended arrival date (Sunday, August 16 for Fall 2020) to ensure your attendance at the Orientation program.
References for when you arrive in Bemidji: