Bemidji State University enrolls over 5,000 students from across Minnesota, the United States, and many different countries. Learn why so many international students call BSU home.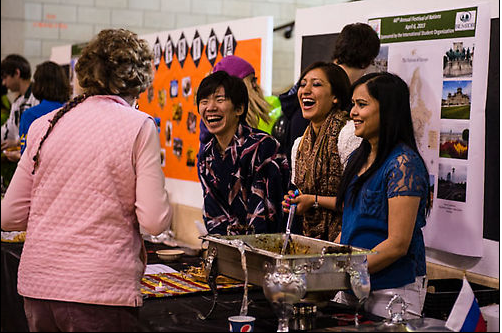 Founded in 1919 and accredited by the North Central Association of Colleges and Universities, BSU is a coeducational institution offering bachelor and master degree programs.
As a state-supported university, all of our students can take advantage of the vast resources of the Minnesota State College and Universities System (MnSCU).
Location
Bemidji State University is located on Lake Bemidji in North-Central Minnesota. It is approximately four hours by car from Minneapolis/St.Paul, and approximately 4 hours from Winnipeg, Manitoba, Canada. There are daily flights from Minneapolis/St.Paul which his a major airport within the United States.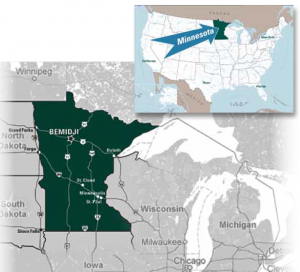 Academics
We provide a liberal arts education focused on three signature themes: the global family, civic engagement and the environment.
Our undergraduate and graduate programs are rigorous and career-oriented, taught by distinguished faculty with advanced degrees from top U.S. schools like Cornell University, Purdue, University of Minnesota, University of Iowa, University of Illinois, Texas A & M, Virginia PolyTech, University of Wisconsin and Bemidji State University.
Through personalized instruction, hands-on learning and independent research opportunities, our students develop invaluable real world experience, practical skills and a broader, global perspective. Learn more about BSU academics.
Academic Calendar
The academic year is divided into two sixteen-week semesters. BSU also offers 3-5 week summer sessions, beginning in June and ending in mid-August. Incoming international students may not initiate study beginning in a summer session.
Admission and Costs
When you are ready to apply, carefully review our requirements for international student admission, and contact the International Program Center with any questions you have about the admissions process.
International students qualify for resident tuition rates (in-state tuition), resulting in substantial savings to the cost of your education. We also offer "banded tuition" where each semester costs the same for full-time students taking 12-18 credits. With banded tuition, you can complete your degree more efficiently. Learn more about international student tuition.
Activities and Recreation
The nationally-recognized Outdoor Program Center features a new lakeside facility that rents kayaks, canoes, pontoons, sailboats, ski boats, cross-country skies, mountain bikes, tents, backpacks, snowshoes, fish houses and sleeping bags. Weekend trips and semester break trips are available at student-discounted prices.
OPC's lakeside boathouse is in Diamond Point Park, just steps away from campus. The park offers lakeside benches, walkways, grills and gazebos — perfect for a quick study-break getaway. A newly built biking and walking trail winds it way along the lake and through campus, offering students a convenient and inexpensive outdoor experience.
The Gillett Recreation-Fitness Center offers state-of-the-art equipment and facilities that will help you slim down, tone up, de-stress or just play. Students meeting minimum enrollment requirements can use the facilities for free.
Gillett includes four activity courts adaptable for basketball, tennis, volleyball or badminton, a six-lane 200 meter indoor track, free and fixed weight rooms, five racquetball courts, a new climbing wall, a six-lane 25 year pool, a spacious dance studio, and a variety of cardiovascular equipment. Various programs are offered throughout the summer.
Activities
There are a variety of activities on campus every semester. Past events have included bowling nights, movie nights, special deals on food/beverages at the Lakeside Food Court, giveaways, tie-dye, musicians, games and more. These events are advertised through campus emails, posters flyers, and calendars that will be distributed at events, in the Residence Halls and the Hobson Memorial Union Information Desk.
Visit the BSU Events Calendar for the dates of upcoming events.