Program Overview
Sino-Summer is an affordable, authentic and focused short-term-study-in-China experience. Students have the opportunity to chose from two Sino-Summer sessions to study in either Nanjing or Guiyang, and live there one month for free, while earning BSU credits. From the term before your departure until your return, we provide support and guidance all the way through. During the first 8-week of Spring session, you will attend pre-trip orientation (INTL 2100 Instructed International Tour) before flying out to China in May. Accommodations and tuition at Chinese Universities are covered by scholarships, and a monthly stipend will cover student meals from the host institutions.
Upcoming Information Meeting: Oct 17, 3:30pm,North Conference Room, HMU Upper Union
Program Details

Program includes full room and board on Chinese university campus, which is generously covered by AASCU Global Initiative's ASSCI scholarship.

Paying BSU tuition and fees, earning BSU credits, getting a cross-cultural perspective with co-instructors from both BSU and the Chinese university.

Enroll in a 2-credit orientation (INTL 2100, hyflex, goal 8) in Spring 2023. In this course, we will examine the influence history, geography, economy, political and social factors have on members of another culture as reflected by their values, beliefs, practices, and perspectives. We will also cover international travel basics and preparation, including visa application, passport, immunization, scholarship application and basic understanding of the sociopolitical, cultural and historical background of the region where students will visit.
Go experience China in the summer!
Session 1: Global Health Perspective
Session 2: Comparative Economic Development
Date

May 12- June 9th

June 10 – July 13th
Host School
Nanjing University of Chinese Medicine
Guizhou University
Where
Nanjing/Nanking
Guiyang/Kweiyang

Field trip

Traditional Chinese Medicine hospital, Ming Xiaoling,

Confucius

Temple, Purple Mountain

HuangGuoshu Falls, Qinyan ancient town, QianLingShan

Academic Course
INTL 2200 International Study Experience – Humanities (3 credits)

ECON 2100 Macroeconomics and the Business Cycle/Econ3700 Current Economic Topics (3 credits)

ECON 1500 History of Mixed Economy (3 credits)

Lib. Ed. Goal Area
Goal 6& 8
Goal 5 and Goal 8
Course Description
This study abroad program examines professional and leadership aspects of practicing cultural humility by integrating Chinese and Western health beliefs and practices related to health promotion, maintenance, and restoration.
This study-abroad experience transforms the traditional economics classroom from lecturing and text reading to immersive experiential learning in a different kind of economic society. We explore the question of how human societies in different parts of the world organized themselves for social provisioning.

Cost and Eligibility
Program Costs:
Here is the break-down of your estimated expenses including tuition.
| | | | |
| --- | --- | --- | --- |
|   | Session 1: Global Health Perspective | Session 2: Comparative Economic Systems | Both Session |
| BSU Student Tuition and Fees | For 5 BSU credits: $1794 | For 8 BSU credits: $2870.4 | For 11 credits: $3946.8 |
| Estimated Airfare( Round trip from Minneapolis (MSP) to Shanghai (PVG)) | $2000 | $2000 | $2000 |
| Passport (Fees to apply for U.S. Passport if you don't already have one) | $150 | $150 | $150 |
| Visa (Fees and service charge to apply for Chinese visa) | $325 | $325 | $325 |
| Meals and incidental during trip | $25 x 30 days: $750 | $25 x 30 days: $750 | $25 x 60 days: $1500 |
| BSU International Health Insurance | For 30 days $70 | $70 | $140 |
| Scholarship Stipend*(Student participating in this program apply for scholarship and receive a monthly stipend) | -$350 | -$350 | -$700 |
| Chinese Tuition | Waived | Waived | Waived |
| Accommodation (On campus Dormitory) | Covered by scholarship | Covered by scholarship | Covered by scholarship |
| BSU Ed Abroad App fee | $150 | $150 | $150 |
| Total | $4889 | $5965.4 | $7511.8 |
* This program has applied and been approved to receive scholarship funding from American Short-Term Study-in-China Initiative (ASSCI). Student upon submitting an application will receive the scholarship, which covers tuition at the Chinese institution, on campus accommodation, Chinese Health insurance, and a monthly stipend.
Eligibility
Sino-Summer is open to students in good academic standing (≥ 2.5 GPA) who have completed their freshman year.
This program may include physical activities like hikes and walking tours including lots of stairs. Not all sites visited, modes of transportation or housing accommodations will be handicap accessible.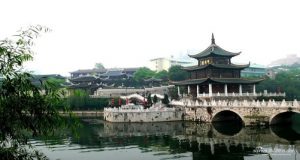 Requests for reasonable accommodations will be carefully considered, but may not be available. You may wish to consult with the program director.
Nursing, Psychology, Social Work, Community Health and other health allied majors are encouraged to participate in session 1 as it allows students to gain knowledge, experience and perspective of other cultures in relation to the care industry and medical practices. To see report on a previous similar study-abroad experience in BSU News: Culture and Health Care: BSU Nursing Students Travel to China 
Economic, Business Administration, Social Studies and other social science majors are encouraged to participate in session 2 as Econ 2100 is either a required or recommended basic core course for these majors. This program provides student understanding of the economic foundation of the different aspects of our social provisioning process.

Destination Profile
Session 1:Nanjing
Nanjing as the old capital of Republic of China and 5 other dynasties is full of rich history and culture. It is also the home to world heritage site Ming Xiaoling.
At Nanjing University of Chinese Medicine (NJUCM), students have the opportunity to opt-in a certificate-bearing coursework offered by faculty from NJUCM's International Acupuncture Training Center. There are theoretical as well as hands on learnings. This training center is a designated WHO collaborating Center for Traditional Medicine. Students will also participate in cultural excursion in the region.
Students will visit a traditional medicine hospital, community clinics, and attend classes with their Chinese faculty and peers. They will learn about a variety of cultural and professional similarities, differences, and issues between traditional medicine and more modern health practices.
Session 2: Guiyang
Located in the eastern Yunan-Guizhou Plateau of Southwest China, Guiyang is a city of mild temperature all year long, which hovers between 65-78 degrees Fahrenheit. Guizhou is a picturesque province rich in natural scenic spots and cultural landmarks, where 93% of the area mountainous landscape of a typical Karst topography.
At Guizhou University, students will study in the School of Economics in an introductory economics course offered jointly by Guizhou University and BSU faculty with theoretical as well as hands experiential learnings. Dr. MA Hongmei (马红梅)'s teaching area includes Micro/Macro Economics, Labor Economics and Sustainable Development Economics. Her research focuses on regional economics, and labor and agricultural economic issues. Students will have opportunities to experience the host city and visit places like the Numismatic Museum in Guizhou University of Economics and Finance and the Museum of Guizhou Province. Also included in the program are excursions to the surrounding areas, such as Qinyan ancient town, where architectural structures from the Ming and Qing Dynasties remain, the ruins from Qin Yan missionary incidence, Qian Lin Mountain and Huang Guo Shu Waterfall.
Frequently Asked Questions:
How do I apply to be in this program?
To apply, you need to fill out an application, and then go to e-services and register for INTL2100 like you would with any other classes. The instructor will prepare you for the rest of the program throughout this course. If you are not interested in the travel, you can still sign up for INTL 2100, it will help you meet the 2-credit requirement in Goal Area 8.
2. Do I have to be a BSU student to participate?
No, since both courses are part of liberal education, and are part of the Minnesota Transfer Curriculum, students from any Minnesota State Universities and Colleges can take these courses, and transfer credits back to their home institution towards their degrees. You need to fill out a special student application, but you must be a full-time student to be eligible for the scholarship.
3. What kind of accommodation will I be provided while living in China?
All students will be staying in the international student dormitory on the campus of the host institution. All rooms are double occupancy. There are several canteens near the dormitory, which students can dine in. Upon arrival, each student will be provided a campus OneCard, which can be used similar to Beaver Bucks in the canteens, bookstore, convenience stores, etc. on campus. 

Interested?
Book an appointment with the International Program Center to discuss your study away plan today!