Beijing is the capital city – and the second largest city – of the People's Republic of China, located in the North East part of the country.
As the capital of China, Beijing is the nation's political, cultural and educational center. It is considered a municipality with 14 districts, 2 counties and a population of 20,693,000 over a 6,336.14 square mile area.
History and Economy
Beijing's history goes back 3,000 years and it has been the political center of the country for most of the past 800 years. This has left Beijing with a rich cultural and political history that can be seen among its palaces, temples gardens, tombs, walls, art museums and universities.
Beijing is one of the most developed cities in China; it is home to 41 Fortune Global 500 companies and its service industry accounts for 73.2% of its GDP.
Finance is one of the most important industries centered in Beijing, home to over 750 financial organizations. The city creates 11.6% of the total financial industry revenue for all of China. Other industries found in districts throughout Beijing include corporate headquarters, electronics, pharmaceuticals, information technology, materials engineering and agriculture.
Culture
Beijing has something for everyone. The city is also known for Beijing (Peking) opera, Peking roast duck (delicious!) and a specific metalworking technique called cloisonné. There are also hundreds of museums, historical sites, parks, temples, night clubs, all kinds of markets and malls, great restaurants, interesting architecture, and renowned universities. Some student favorites include: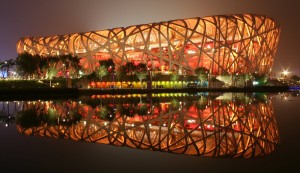 the Forbidden City
Beihai Park
Tiananmen Square
the Great Hall of the People
the National Museum of China
the Mausoleum of Mao Zedong
the Summer Palace
the Temple of Heaven
the Great Wall of China (an hour north of the city)
the Thirteen Tombs of the Ming Dynasty (also on the outskirts of Beijing)
The public transportation system is cheap, convenient and easy to use, so you can see as much as you want in your time here.
Language
Residents speak a Beijing dialect of Mandarin Chinese, which forms the basis for all Mandarin (if you learn Chinese, you will most likely learn this dialect). More people speak English in Beijing than in other Chinese cities, but you'll still want to prepare for the language barrier before you travel. 
Weather
The weather in Beijing can fluctuate greatly depending on the season. The summers are hot and humid and the winters are generally cold, windy and dry. There are sometimes sandstorms that blow in from the Mongolian steppe due to the rapidly warming but dry conditions in spring. Fall is short and the temperature falls fast.