The official currency in Finland is the Euro (EUR).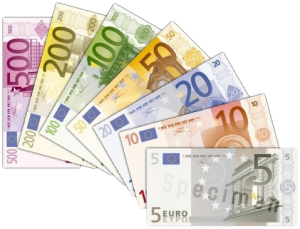 Making Purchases
For payments in cash, the euro is practically the only option. No other currencies will be accepted, so visitors from outside of the euro zone will likely need to exchange some cash, traveler's checks or get the euros from an ATM.
Currently the 'euro zone' consists of the following European countries: Austria, Belgium, Cyprus, Estonia, Finland, France, Germany, Greece, Ireland, Italy, Luxembourg, Malta, the Netherlands, Portugal, Slovakia, Slovenia and Spain. In addition to the above, the euro is officially used in Andorra, Kosovo, Monaco, Montenegro, San Marino and Vatican.
Foreign Currency Exchange
Foreign currencies can be exchanged in banks, post offices, as well as exchange bureaus located in cities, at sea ports and airports. The exchange bureaus usually offer better rates than banks and also have more convenient hours and faster service.
Wait until you arrive in Finland before buying Euro for the best exchange rate. Don't buy more than you need, since you will be losing out when exchanging Euro back to your currency.
ATMs
ATMs are widely available in Finland, even in small villages, and they usually accept foreign credit and debit cards such as Visa, Visa Electron, Mastercard and Maestro.
Credit Cards
Most major brands of credit cards are widely accepted in Finland by hotels, restaurants, shops, travel or car rental agencies.
Traveler's Checks
Traveler's checks can be exchanged at banks or exchange offices. Some stores in tourist areas will also accept them for payment. For best rates, travelers should take the checks in euros, US dollars or British pounds.