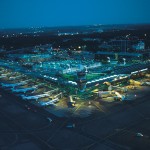 A flight from Minneapolis to Helsinki, Finland will cost around $1,000.
Travel Documents
Passport
For stays of up to three months your passport should be valid for the proposed duration of your stay; you do not need any additional period of validity on your passport beyond this.
Residence Permits                                      
Residence permit is required for stays longer than 90 days and for studying or working in Finland. The permit is normally given for one year, unless required period of stay is shorter. Residence permit must be applied for in the country of the applicant's origin or, in certain exceptional cases, in the country where he/she legally resides. A person with a residence permit can live and move freely in Finland during the duration of the permit. It is also possible to exit and re-enter Finland.
Getting around
Once you've arrived, take your time. You can get around by train, bus, car, steamship, cruise ship, bicycle, skis or sleigh. Relax and enjoy it.
Finland is a large and sparsely populated country, but getting from point A to B is no hassle. Transport networks by air, rail, road and water are comprehensive and reliable.
When arriving in Finland, chances are you'll be landing in Helsinki. Even if not, you'll notice all corners of the country are connected.
Air
There are 27 airports in Finland, five of which have regular international flight services. The main gateway is the Helsinki-Vantaa international airport.
The northernmost airport is in Ivalo in Lapland, approximately 250 kilometres above the Arctic Circle.
Train
Finnish trains are spacious, comfortable and clean. The rail network stretches all over the country from Helsinki to Kolari in Lapland.
Coach
Finland's coach route network is one of the most comprehensive in Europe, covering more than 90 per cent of public roads.
Car
Finland has right-handed traffic with a polite and stress-free driving culture. There's a good network of petrol stations close to each other.
Boat and Ferry
There's a plethora of charter and sightseeing cruises along local coastlines and inland waterways. Please see details with the tourist office of your destination.
Bicycle
Most Finnish cities have good bike paths especially outside the centres, and taking a bike can be a quick, healthy and environmentally friendly method of getting around locally.
The roads are generally paved well, although gravel roads are sometimes unavoidable. As long as you don't go off-road, you will not need suspension or grooved tires.
Because of the long distances, bicycle tourists are advised to plan well and be prepared to use public transport for the less interesting stretches. Long-distance coaches are well-equipped to take bicycles on board, trains take bicycles if there is enough space. Ferries take bikes for free or a minimal charge.