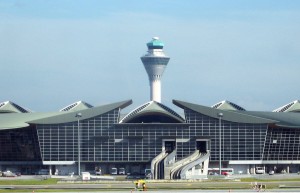 The best way to get to Kuala Lumpur is to fly to the modern, new Kuala Lumpur International Airport (KLIA).
Kuala Lumpur is the sixth most visited city in the world, so you'll have many options for flights.
Getting to KLIA
While actual airfares will vary depending on your exact dates of travel, you can expect to pay about $1,700 for round trip flights from the Twin Cities to Kuala Lumpur. One option that will get you a little local flavor even before you arrive is to fly on Malaysian Airlines, which has daily departures from Los Angeles and San Francisco to Kuala Lumpur. You'll need to buy the connecting flight to Los Angeles or San Francisco separately, of course.
Upon Your Arrival
Once you arrive at the airport in Kuala Lumpur, someone from HELP University's International Student Services Department will pick you up and transport you to your accommodations.
Getting around
Getting around in Kuala Lumpur is easy, with plenty of public transportation (buses as well as light rail) that is quite inexpensive.
Taxis
While students in the US rarely take taxis because of the expense, they are very inexpensive in Malaysia and most trips would cost $4-5 or less.
Carpooling
Many students have cars as well, so if you're fortunate to make friends with some that do, you'll be able to hitch a ride or two.
Scooters
You can also purchase a small used motorcycle or scooter while in Malaysia. You can usually pick one up in good condition for $500-$600 and sell it when you leave for about the same price as long as you don't bang it up.
Traffic in KL is organized, and driving is not a problem. Your US drivers license is all you need to be legal while you're there, but you will need to buy insurance, which will probably run about $15 per month. Other students have done this in the past in Malaysia, Vietnam and China and found it to be the cheapest and most convenient option for getting around.