Xiaoming(Sean) Huang is currently a NorthStar visiting scholars studying in the Department of Technology, Art and Design at BSU. He joins us from Nanning College for Vocational Technology, Nanning, China as a faculty of Interior Design for the academic year 2019-2020. Like all of us, since this March, he has been staying at home. While it is particularly difficult for someone who is here for the cultural exchange to end up cooped up inside, he kept busy. He is hosting a virtual exhibit called "Until We Meet Again" in the virtual Talley Gallery. The video above tracks his footprints here at BSU, while reminding us that though we might be feeling a painful sense of separation right now, better days will come, and we will be together once more, so keep loving, keep living, keep creating until we meet again.
Click on this 360 view of his exhibit in the Talley Galley to take a virtual tour!
Printmaking Work Collection
Photography Work Collection
Artist Bio:
Xiaoming (Sean) Huang is currently a visiting scholar at Bemidji State. He has seven years of experience teaching in Principles of Interior Design, Drawing and Perspective, 3D Design Software, Design Interior Color and Lighting, Application of Traditional Chinese Architectural Concepts in Nanning, China. A designer and an educator at heart, he earned his bachelor's degree in environmental art design from Guangxi Normal University. He received his master's degree in Design with an emphasis in Southwestern Ethnical Architectural and Landscape Design.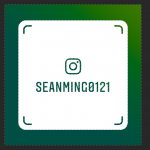 Sean and TADD faculty Mitch Blessing will be offering a brand new course summer 2020 TADD 2930 Summer Design Workshop. It is open to all, and will be held online from July 6th- 31st. Register in e-services.
Sean also made this video documenting his move out of the Glas Scholar House due to COVID-19 isolation housing project.
If you are interested to see more of his work, please check out his Instagram Seanming 0121. 
Artist's Guest Book
Thank you so much for taking time out of your busy day to visit Sean's Virtual Exhibit! Sean would love it if you would sign his guest book, please let him know what you think and how you feel about his work!