Frequently Asked Questions
Use the menu below to answer all of your financial aid questions, but you can always use the "contact us" button to connect with a real human.
The Free Application for Federal Student Aid (FAFSA®) us the form that students use to apply for financial aid for college or grad school. You can apply for aid here. 
Financial aid is money that helps you pay for college. It can be received in the form of scholarships, grants, loans and work-study employment.
What scholarships are available to me?
Every year Bemidji State University provides academic, talent and leadership awards totaling nearly $2,400,000. Many opportunities exist for BSU students, with over 37% of all new entering students receiving scholarships.
What is an Expected Family Contribution (EFC)?
The Expected Family Contribution (EFC) is an evaluation of your family's ability to contribute to college expenses. The EFC is calculated using a formula established by law. All the financial information you provide on the FAFSA is considered in the formula. Also considered are your family size and the number of family members who will attend college during the year. Schools use the EFC to determine your federal student aid eligibility and financial aid offer. Note: Your EFC is not the amount of money your family will have to pay for college nor is it the amount of federal student aid you will receive. It is a number used by the school to calculate the amount of financial aid you are eligible to receive.
What is my dependency status?
Per Federal regulations, we are not allowed to consider the following conditions as an extenuating circumstance for a dependency status change:
Parents refuse to contribute to the student's education;
Parents are unwilling to provide information on the FAFSA or for verification;
Parents do not claim the student as a dependent for income tax purposes;
Student demonstrates total self-sufficiency.
Occasionally, unusual circumstances may exist that warrant a review of a student's dependency status. Please contact us via email at financialaid@bemidjistate.edu or by telephone at 218-755-2034 for more information.
Who is my parent when I fill out my FAFSA?
Dependent students are required to report parent information on the FAFSA. For reporting purposes, "parent" means your legal (biological or adoptive) parent or stepparent, or a person that the state has determined to be your legal parent.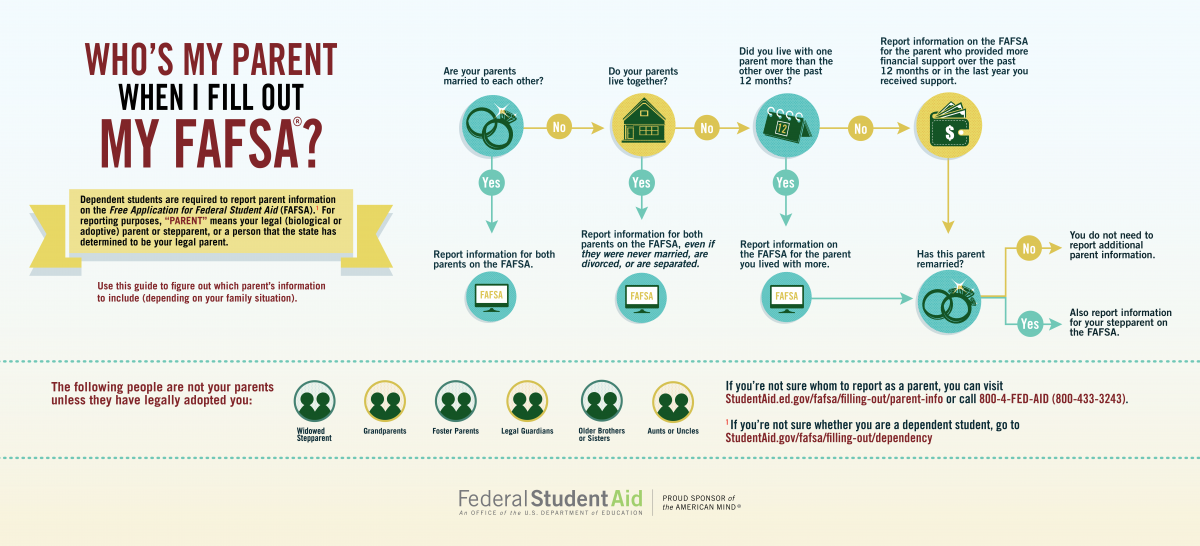 What if my financial situation has changed since the tax year requested on the FAFSA?
The FAFSA asks for income information from two years ago, but we understand that a lot can change in two years. If you experienced a change in your financial situation, we may be able to review your application to take this into account.  Please contact us at 218-755-2034 or financialaid@bemidjistate.edu.
Name Change
To change your name, you will need to submit the following to the BSU Financial Aid Office:
Copy of marriage license or another legal document such as divorce decree
Copy of social security card with your new legal name
Copy of Photo ID
Change in Marital Status
Getting Married: If you are planning to get married this year, contact the Financial Aid Office for advice about when to submit your FAFSA.
Separation or Divorce:  If you or your parents are experiencing a separation or divorce but filed a joint tax return, contact the Financial Aid Office to discuss your options.
Financial Hardship
If you (independent student) or your parents (dependent student) have experienced a financial hardship since filing your income tax returns, contact the Financial Aid Office for assistance.  Financial hardship may include unemployment, retirement, severance, marital status change or a death in the family.
My Financial Aid Offer (Award Notification)
The Financial Aid Office will send an email to your BSU student email account notifying you when your financial aid offer is available to view or print from your e-Services account.  It is very important that you activate your student email account and check it regularly.  Students have the ability to track the progress of their financial aid application and view their financial aid offer online. To access your financial aid information, log into the e-Services site.
Log into MyBSU and select e-Services.
Select Financial Aid from the menu on the left.
The award year will be displayed.  You can change the semester if necessary.
You can view your financial aid status and financial aid offer, as well as your bill.  We encourage you to print them and keep copies for your records.
---