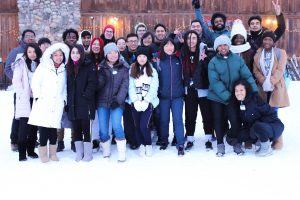 Admission Deadlines
All international applications are processed on a rolling basis, however, there are admission deadlines. For fall semesters: June 15 for applicants outside the U.S. and July 15 for applicants inside the U.S. Spring semesters: October 15 for applicants outside the U.S, November 15 for applicants inside the U.S. Your application for admission and supporting credentials should be submitted as early as possible–we recommend you submit your application at least six months prior to your anticipated start date–to allow us sufficient time to process your application, receive and review your documents and issue your I-20. And, time for you to obtain your visa, set-up your BSU housing, pack, and arrange for travel to Bemidji. All new international students are required to arrive in Bemidji one week before each term starts to participate in the mandatory new international student orientation. The BSU International Program Center conducts the orientation every fall and spring terms. International students have the option of beginning in August (fall) or January (spring). Summer intake is not available.
Admission Requirements
Review the admission criteria and our instructions below prior to applying for admission.
Along with your completed International Student Application, you must submit all of the information and documents listed below. All supporting documents may be scanned and submitted to our office via email–you must include your BSU-issued 8-digit student identification number and first and last name–to International@bemidjistate.edu. We reserve the right to request an original copy of documents, should the scanned copy not prove sufficient.
Submit only one application; submitting more than one (via online or paper) application delays processing. Under "Citizenship" on the application's first page, be sure to select "International Visa Holder or Seeker."
The "Social Security" number is optional. Only include a social security number if one has been issued to you by the United States government. "333-22-4444" is only an example: DO NOT enter that as a social security number. If you do not have a SS number, leave that blank, as it delays processing.
$20 application fee

(currently waived)
Once you have submitted a complete application, you may pay your application fee with a credit card by telephoning the Cashier's Office at 218.755.2045 (M-F, 9:30 a.m. to 3:00 p.m.). Or, you may mail a $20 check to our office, made payable to "Bemidji State University." One more option: once the application fee appears on your account you may pay with a credit card by logging into your e-Service account, go to "Bills and Payment" and "Make a Payment."

Original transcripts or officially certified copies of original transcripts from *all* previously-attended institutions

Please include all secondary/high schools, colleges, universities or technical schools you have attended in their original language.
If records are not in English, include a certified translation.
If you have attended a non-U.S. post-secondary institute, college or university that does not have a current articulation agreement with Bemidji State, you must have a course-by-course evaluation by a professional credit-evaluation agency who is NACES accredited.  SpanTran provides a discount for BSU students.
International undergraduate applicants must have graduated from a secondary/high school with a "C" average or better. Transfer students must have a "C" average or better from any post-secondary schools attended.

Financial Affidavit, 2023-24 Cost Information
– See General instructions for Financial Affidavit for completing the Financial Affidavit.
The financial affidavit must show that the student has enough funding to cover the cost of the first year (two full semesters) of study. The financial affidavit must include the required physical (ink) signatures and supporting line-by-line bank statements (sample bank statement) with affirmation of support or official letters.
– Bank statements must be printed on bank letterhead and display the bank's full name and address; must be signed or stamped by the financial institution; must be no more than three months old; must include type of currency, and when possible, the currency conversion; must show an account balance in the amount of funding that you have indicated; must include the type of account (e.g. savings, checking, time deposit); must be less than 2 pages long.
– Funding must be liquid assets that are immediately accessible. Credit cards, life insurance, crypto-currencies, retirement and/or pension funds are NOT accepted.
Statement of Purpose (personal essay)
In your own words, please describe your academic background, why you want to study at BSU, what your educational goals at Bemidji State University are and how those tie into your future goals, and why you should be selected to study at BSU. The purpose of this writing is not to impress us; we want it to be honest and allow us to get to know you.
Copy of the Name/Identification page of your passport
Authorization to Release Student Information Form (only if you want to give permission to another person to have access to your application/admission records.)
Transfer Request Form International students currently studying in the United States on an F-1/J-1 visa will need to complete this form.
Your supporting documents will be submitted via email to international@bemidjistate.edu. We reserve the right to request an original or official copy of the documents, should the scanned copy not prove sufficient.
Documents that require a signature must be signed with a "wet" — original pen-and-ink signature. Computer-generated signatures are not acceptable.
IMPORTANT: All application materials, including supporting documents (e.g. bank statements, transcripts) become the property of Bemidji State University and cannot be returned. Any documents submitted that are not specifically requested by Bemidji State will not be considered in the applications process.
Canadian students do not need an F-1 student visa but *do* need an I-20 to attend BSU as an international student.
If you have any questions, please contact us by email at international@bemidjistate.edu or by phone at (218) 755-4096.
Nigerian applicants: Submit proof of student membership registration with EducationUSA.
Applications from Nigerian students WILL NOT be reviewed and status emails will not be answered until the EducationUSA student membership registration confirmation has been received by the IPC office. This requirement has been put in place to provide the best possible chance of success with the visa process.
In past years, fewer than 10% of applicants from Nigeria to BSU have been approved for F-1 visas. For this reason, we now require that all Nigerian applicants register and set up an appointment with an EducationUSA center in Nigeria.

EducationUSA is an organization of non-profit advising centers that are supported and/or endorsed by the U.S. Department of State. Their purpose is to provide assistance to students who would like to study in the United States. Students who work with EducationUSA are more informed about the visa process and therefore more likely to be successful in obtaining a student visa.