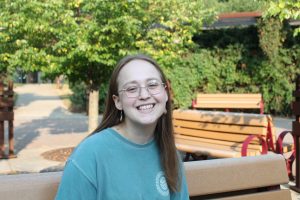 Hey y'all! My name is Malia and my preferred pronouns are she/her/hers. I'm from Stacy, Minnesota, which is a small town about four hours south of here. I am currently a freshman here at BSU, and my major is undeclared. So, I'm currently just working on my general studies and trying to figure out what interests me the most.
Obviously since I'm a freshman this year I'm fairly new to the school and the town, but it already feels like home! I swear, every time I go home, I'm just itching to get back up here to all my friends that I've made. It was definitely a hard decision as to where I wanted to spend the next four years of my life, but once I did, I never looked back! There were honestly quite a few things that drew my attention to Bemidji State originally, and a few of those were our focus on sustainability, the support offered to undecided majors (like me), and affordability.
A speed round of fun facts about me are that I love "grandma crafts" like embroidery, crocheting, cross-stitch, and all the things along those lines, my favorite TV show is New Girl, I'm absolutely obsessed with the musical/podcast called 36 Questions, I've sprained my ankles 8 times over my life, and I've donated over a foot of hair. I think the funniest fun fact I can give is that I'm afraid of lakes, which is quite ironic considering where I am right now.
I am so excited to be working in the Admissions department this year, and I absolutely cannot wait to see you here at Bemidji State University!