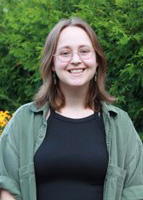 Hey, y'all! My name is Malia, and I use she/her/hers pronouns. I am originally from Stacy, Minnesota, which is a small town around the twin cities. Now, I'm living in Bemidji full-time. I am currently a sophomore here at BSU, and I am majoring in English with a minor in sociology.
I originally toured BSU because I wanted to learn more about the services offered for undecided students because when I was a freshman, I had no idea what I wanted to major in. I ended up falling in love with not only our campus but also the energy of the student population on campus. I knew I wanted to live in a community that would allow me to step out of my comfort zone and meet new people, and I am able to do that perfectly here.
Even though I'm only a sophomore, I have had so many great experiences in Bemidji, and I am so excited to continue being involved on campus! So far, my favorite events I've attended are hockey games (obviously), grocery bag bingo and movie nights. In my free time, you'll probably find me either crocheting, reading, listening to comedy podcasts or binging a Netflix series.
I am super pumped to be returning as a University Ambassador this year and working in the Admissions Office and on the BSU TikTok Team… If you aren't already, make sure you follow us on TikTok. Anyways, I am super excited to see you guys on campus and show you around!