Our north woods campus welcomes visitors year round.
Whether you're guided by our admissions staff or exploring campus on your own, you'll experience BSU's natural beauty and stimulating academic atmosphere. You can take a Virtual Tour of the campus, right from where you're sitting.
Campus Highlights
A courtyard pergola, enclosed in northern white cedars provides the perfect setting for students and faculty to connect outside Bridgeman Hall and the new Hagg-Sauer Hall. On warm afternoons, students enjoy relaxing on the lakeside quad with shoreline views of the lake. On cold winter mornings, students stay safe and warm navigating campus via the underground tunnel system.
With goalposts that overlook the lake, Chet Anderson Stadium is one of only four football stadiums in the country located adjacent to a body of water. After a Homecoming win, the football team celebrates the victory by plunging into the lake and singing the BSU fight song.
Butterfly and community gardens, sculpture, and biodiversity are infused into the natural landscapes across campus, while both modern and classic academic buildings and study spaces provide glimpses into the 100-year history and future of Bemidji State University.
Arts & Culture
The Bangsberg Fine Arts Complex is a nationally-recognized creative center for the performing arts with a recital hall, an experimental theater, a main theater, and rehearsal studios.
The American Indian Resource Center is a cultural and educational hub where you'll find art representing native culture of the region. The center's many programs help promote multicultural understanding throughout the area.
Learn more about arts and culture at BSU.
Lake Bemidji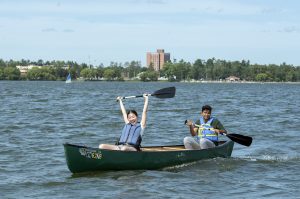 Providing year-round recreation opportunities, Lake Bemidji is the scenic backdrop to many campus activities.
Stop by the Outdoor Program Center in Diamond Point Park during the summer, or at the Gillett Wellness Center in the winter to get a taste of the many recreational opportunities available to BSU students.